Import addresses from Contacts/Address Book of Outlook into your NK2 file
NK2Edit allows you to easily import the email addresses stored in the address book of Outlook directly into your NK2 file.
In order to use this feature, go to Action->Add Records From Address Book, or simply press Ctrl+F6. The address book window of Outlook will be displayed: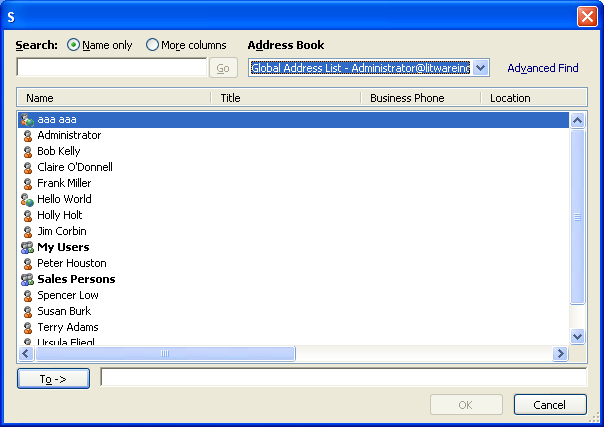 In the 'Search' section, you should choose 'Name Only' to view all addresses, or alternatively, choose 'More Columns' and then type a search string.
In the 'Address Book' combo-box, you should choose the desired address book. For non-Exchange profiles, you can only choose 'Contacts'. For Exchange profiles, other address books may also be available, like 'Global Address List' and 'Personal Address Book'.
After choosing the desired address book, you can select multiple addresses to add into your NK2 file, by holding down the Shirt or Ctrl key and selecting the desired addresses with the UP/Down arrow keys.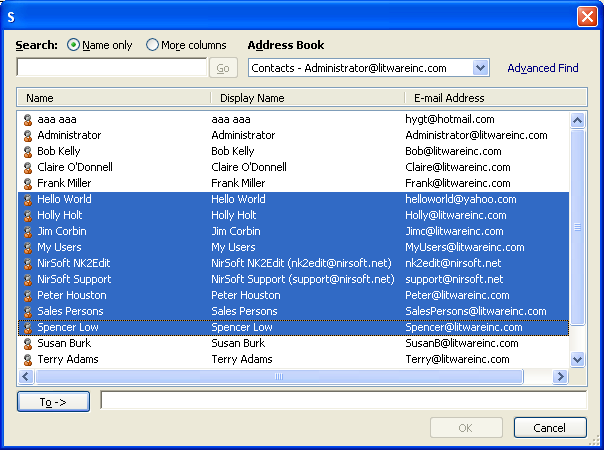 You should press the 'To' button in order to add the selected addresses to the list.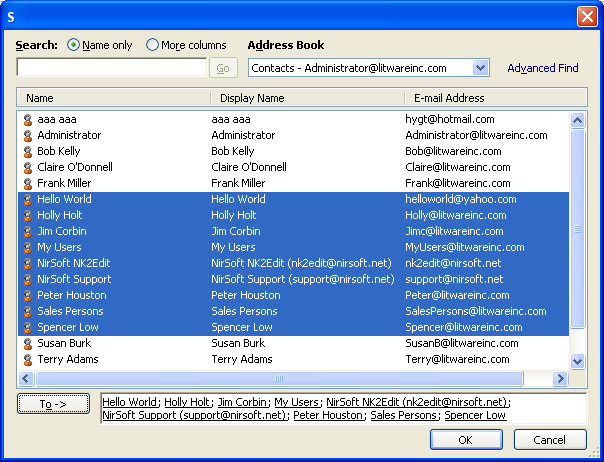 After that, press the 'Ok' button, and then the addresses list will be added into your current NK2 file: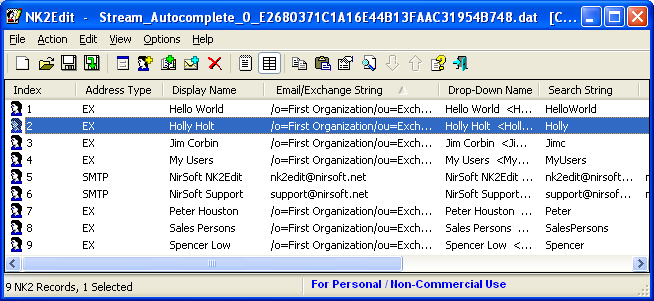 In the licensed version, you can also import addresses from the address book of Outlook automatically, by using /import_address_book command-line option. For more information about using this command-line option, see: NK2Edit command-line options
Notice: If you want to use this feature with the Outlook 2010 64-bit, you must use the x64 version of NK2Edit. In all other cases, you should use the 32-bit version of NK2Edit.
See Also
Return to NK2Edit introduction page