Only 10 false positives in the new MessenPass release, for now.
A few days ago, I released a new version of MessenPass. According to
VirusTotal Web site
, so far there are only
10 Antivirus programs
that detect a threat or infection inside mspass.zip:

If you wonder what is the reason that I say the word 'Only', that's because the previous of MessenPass (v1.24) has
false alerts in 25 Antivirus programs
: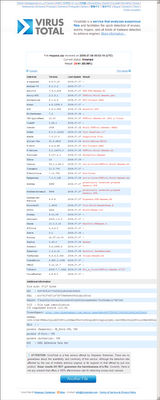 The reason of the False Positive decrease is probably because most Antivirus programs don't find the bytes sequence that they used to detect the previous version of MessenPass.
Unfortunately, in the next days/weeks, these Antivirus companies will probably add the new MessenPass into their database, and the number of false alerts will increase back to around 25.
In the next few days, I'll watch closely the changes in
MessenPass
false positives, and I'll post an update when the number of false alerts significantly increase.